Your Toolbox of Skincare Information for Clients
Achieve Client Cooperation and Engagement by Sharing Knowledge
DERMA BOX is a practical skincare encyclopaedia – A one-of-a-kind box of informative cards, allowing skincare professionals to provide their patients with clear and visual information on their diagnosed skin conditions and on the available cosmetic technologies, so as to bridge the knowledge gap and achieve patients' engagement and therapeutic cooperation.
DERMA BOX was designed and developed by experienced skincare professionals especially for skincare professionals, to meet their pressing need for comprehensive, accessible information for every stage of their interaction with clients.
The patient-oriented information in the DERMA BOX cards allows skincare professionals to:
Clearly explain to patients their dermal diagnosis and the alternative treatments available for their skin condition.
Facilitate patients' educated choice of preferred skincare treatment.
Gain patients' full cooperation throughout the treatment process, including proper preparation for treatment and commitment for post-treatment care, so as to maximize treatment results.
Engage patients as active participants in their skincare treatment – Increase patients' satisfaction and retention.
Cosmetic Technology Cards
The Cosmetic Technology cards describe 25 advanced skincare technologies and their expected physiological impact. The cards also indicate which patients, skin conditions, and skin tones each technology is suitable for.
At the top of every Cosmetic Technology card there is a graphic area, presenting pictures of relevant skincare devices and illustrations of the expected physiological impact, to allow for visual demonstration of the textual explanations.
Finally, the Cosmetic Technology cards offer treatment recommendations for each technology, and specify the pre- and post-treatment care required from patients.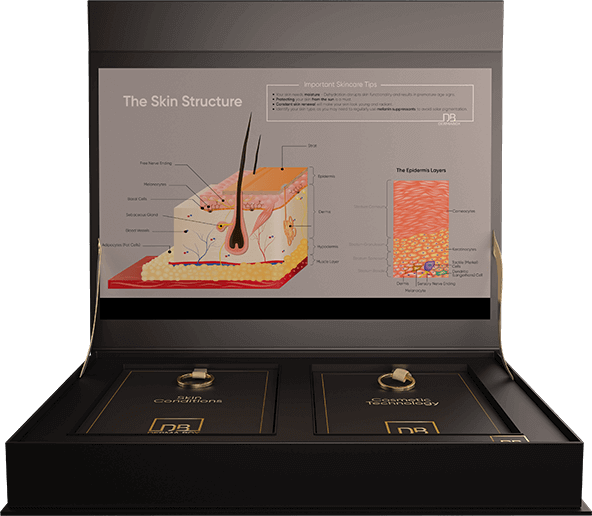 Skin Condition References
Solar Pigmentation
Post Traumatic Pigmentation
Hormonal Pigmentation
Pigmentation in Pregnancy
Vitiligo Pigmentation
Lentigo Pigmentation
Age Spots
Teen Acne – Comedones
Teen Acne – Papules & Pustules
Post Acne
Hormonal Acne
Adult Acne
Oily Skin
Dry (Fatless) Skin
Dehydrated Skin
Seborrhea
Post Acne
Rosacea
Couperose
Folliculitis
Anti-Aging
Wrinkles & Fine Lines
Expressive Wrinkles Skin
Sagging & Slackening
Skin Aging
Redundant Hair
Cellulite
Stretch Marks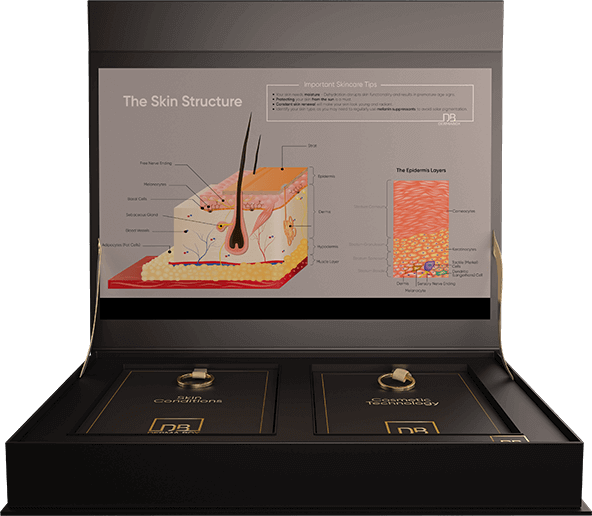 DISCOVER MORE ABOUT THE DERMA BOX
For more information on the Derma Box fill out the form and we'll be in contact.